Product Description
This Black Box Wi-Fi Spy Camera is unbelievably versatile. It can lay flat. Stand and either side and capture the entire room. It offers wi-fi live streaming video to any mobile device from any location in the world plus Sd card recording. It can be hidden anywhere, no ac power needed. The internal battery will last up to 8 hrs on a full charge, or use the included Ac power supply for all day and night recording. Works on motion detection or full time recording. You ca use up to a 64 gig sd card for hours of video
With a WI FI LIVE STRAMING AND Micro SD card Version With the high resolution full HD video capture and remote viewing via smartphone , this unit allows you to easily check in at any time. The Wifi functionality allows you to view the live video anytime and anywhere. You can Also easily record without the need for an always-on computer connection. It's easy to view the recorded footage using your computer, iOS, or Android device. The cloud functionality means there is no complicated router configuration to get you up and running for remote viewing.
This is the newest in live view spy camera technology. This spy camera clock offers p2p live streaming audio and video to your Mobile phone, Tablet or PC. In addition the built in SD card recorder offers added recording capabilities and up to a 64gig SD card. This gives you 120 hr record time. This spy camera looks great in your home, office warehouse or any other application you may need it for.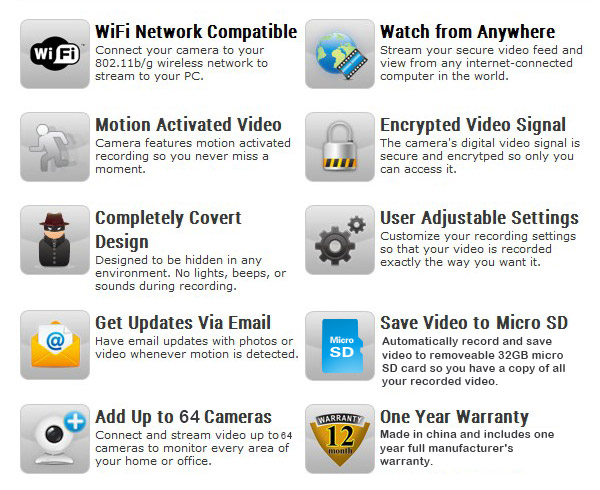 PC, Mac, iOS, Android CompatibleView from IE, Firefox, Chrome, or Safari

5 MegaPixel CMOS Camera

Recorded Video Resolution 1280x720

Streaming Video Resolution 1920x1080

Video Format ASF (H.264)

FPS 30fps (at 1280x720)

View Angle Approx. 90 degrees

Low Light Illumination 1 LUX

Memory Micro SD Card Max Size 128GB

Recording Memory Consumption 2 GB/hour

Playback Software VLC Media Player

Compatible with 802.11b/g/n

Secured with WEP/WPA/WPA2
Product Videos
Product Reviews
You May Also Like...